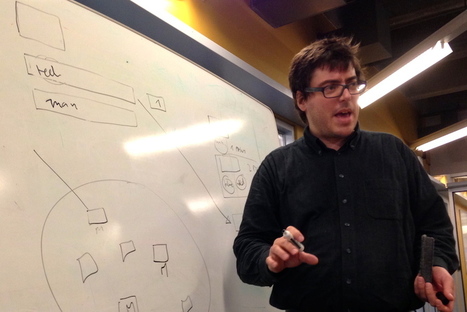 When Florian Thalhofer shows one of his interactive documentaries in theaters, he arms the audience with laser pointers. Whenever there is a choice of which clip to watch next, the crowd votes by aiming a glowing red dot, and the choice with the most dots wins.
Thalhofer, a documentary filmmaker based in Berlin, had to build his own software in order to deliver the kind of stories he wanted to tell. Now he offers that software for free online for small projects (larger projects require licensing), and he travels the world giving workshops on how to use it. Those workshops are less about the software, though, and more about his philosophy of storytelling, one that is decidedly nonlinear."
"A life in itself is so beautiful, and things go in one direction and then another direction. We are socialized in a very, very linear format with film. I think it's the dominant structure that we have to deal with. So people at the moment enjoy very linear things. And this might change over time. I think it is a very slow process for people to get their head around. I think it takes at least a generation. We need to rewire the brain."