Scoop.it!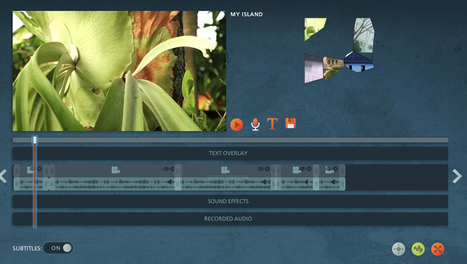 Welcome to 17000 Islands, an interactive experiment in documentary image making, and for its creators, […]
mirmilla's insight:
An experiment that makes the user feel the typical experience of an editor: many clips shot personally by the two directors are available , transforming the "user" from passive to active.
Each clip can be selected and recombined in a very personal way, allowing you to create your own "island". And of course there will never be an island like the other.
The islands "auteur" vision simply does not exist, the two authors are at the edges of this work. There are traces of them in the creation of the clip (point of view, camera movements, choice of subjects etc..) but otherwise they encourage others to make their own contribution.
This work reaffirms and develop the participatory genre (see "The Johnny Cash Project")
From the "old" documentary, the reality remains a substance to understand, to assemble...
A job essentially identical to that of the film editor.
That editor that often can not rely on nothing but the several shots and her own imagination.
An experiment in which innovation is not the non-linearity - typical of the editing phase - but consists of a role reversal. The filmmakers become camera operator, users become directors.