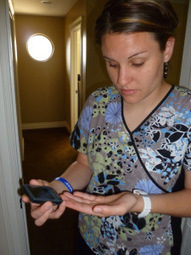 As a healthcare provider without diabetes, I will never fully understand what it is like to live with diabetes. I do however try my best to understand the day-to-day challenges as best as I can. I have tested my own blood sugars, worn all the insulin pumps and CGM devices, taken saline injections, etc.; I also engage in the DOC (diabetes online community).
To try to encourage other healthcare providers to gain better perspective on diabetes, I worked with members of the DOC to set-up a fakebetes challenge. Whitney, a new nursing graduate, and Kim Vlasnik both volunteered to be first to take this challenge, and were paired together.
In this fakebetes challenge, Kim text Whitney fake insulin doses, including a carb ratio and correction factor; and blood sugar readings from her own glucometer. Whitney was encouraged to check her own blood sugars and count carbohydrates, but take saline injections according to the blood sugars Kim had text text her. In this way there would be some blood sugar readings in different ranges to think about and respond to.