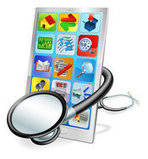 As patients increasingly turn toward social media to access healthcare and self-diagnose, the patient-provider relationship is changing, the book argues. The first step in this change came when patients gained access to medical information online. Now they're adding the power of crowd sourcing, which means the healthcare industry isn't just seeing a more educated patient but also patients interpreting information and, essentially, becoming a member of their healthcare team.
"Patients are becoming our colleagues," said co-author of 'Social Media For Nurses' Ramona Nelson. "It's changing relationships and the kinds of questions and services a patient asks for."
With healthcare becoming increasingly virtual, said Wolf, it's becoming the provider's responsibility to direct patients to the best online resources.
Looking ahead, Wolf advises that nurses and practitioners need to incorporate social media into a strategic plan to determine how they're going to use different platforms and extend services through them. This plan, she said, should be created from a clinical perspective as well as an IT perspective, allowing for an interdisciplinary approach.
"Clinicians in services may not understand websites or synchronized information versus unsynchronized information," she said. "They need help to get them out there virtually."