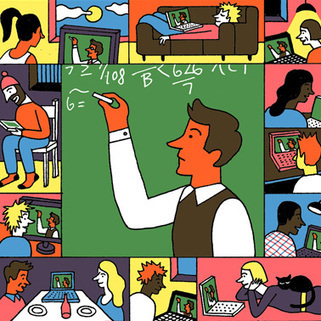 "... Agarwal believes that education is about to change dramatically. The reason is the power of the Web and its associated data-crunching technologies. ...
These ideas affect markets so large that their value is difficult to quantify. Just consider that a quarter of the American population, 80 million people, is enrolled in K–12 education, college, or graduate school. Direct expenditures by government exceed $800 billion. Add to that figure private education and corporate training. ...
Because education is economically important yet appears inefficient and static with respect to technology, it's often cited (along with health care) as the next industry ripe for a major "disruption." This belief has been promoted by Clayton Christensen, the influential Harvard Business School professor who coined the term "disruptive technology." In two books on education, he laid a blueprint for online learning: it will continue to spread and get better, and eventually it will topple many ideas about how we teach—and possibly some institutions as well." from source http://www.technologyreview.com/

NOTE: A broad view of emergent technologies that are just beginning to disrupt the traditional K-12 and Higher Education environment. The author uses citations to link the reader with back up materials in support of his remarks. Considering the source, the MIT Technology Review," it is worth paying attention too.