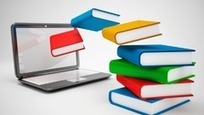 Breaking down the education system, 1 book at a time! Love this: free university courses!
The race to create a full-fledged digital campus — with renowned professors teaching everything from astronomy to obesity economics online — has a new front-runner.Coursera offer courses from the top universities, for free.
Learn from world-class professors, watch high quality lectures, achieve mastery via interactive exercises, and collaborate with a global community of students.
See Forbes article here: http://www.forbes.com/sites/georgeanders/2012/07/17/coursera-boom/