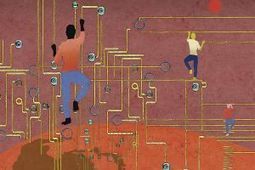 An entrepreneur is running with the idea that a brand-new, technology-fueled, for-profit university can predefine itself as "elite."...
Most of the tech entrepreneurs I've met are in their 20s and seem younger, animated by the idea of a limitless future. Most of the college presidents I've met are in their 50s or 60s and seem older, as if they'd emerged from the womb with a conservative haircut, dark suit, and stentorian voice given to proclamations about the noble mission of academe. Ben Nelson is in his late 30s and seems to be neither a tech entrepreneur nor a college president, which may be why he is actually both, having recently founded the Minerva Project, billed as the "first elite American university to be launched in a century."
Minerva, based in San Francisco, has not yet enrolled any students. It currently consists of Nelson, a graduate of the University of Pennsylvania and former chief executive of the online-photo company Snapfish, and his ideas about what a technology-fueled global university could be. That combination was enough for Benchmark Capital, an early investor in eBay and Twitter, to give Nelson $25-million this year to make his vision real.