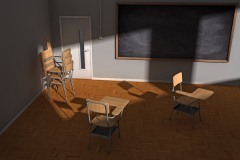 On Sept. 17, the Pakistani government shut down access to YouTube. The purported reason was to block the anti-Muslim film trailer that was inciting protests around the world.
One little-noticed consequence of this decision was that 215 people in Pakistan suddenly lost their seats in a massive, open online physics course. The free college-level class, created by a Silicon Valley start-up called Udacity, included hundreds of short YouTube videos embedded on its website. Some 23,000 students worldwide had enrolled, including Khadijah Niazi, a pigtailed 11-year-old in Lahore. She was on question six of the final exam when she encountered a curt message saying "this site is unavailable."
Niazi was devastated. She'd worked hard to master this physics class before her 12th birthday, just one week away. Now what? Niazi posted a lament on the class discussion board: "I am very angry, but I will not quit."
In every country, education changes so slowly that it can be hard to detect progress. But what happened next was truly different. Within an hour, Maziar Kosarifar, a young man taking the class in Malaysia, began posting detailed descriptions for Niazi of the test questions in each video. Rosa Brigída, a novice physics professor taking the class from Portugal, tried to create a workaround so Niazi could bypass YouTube; it didn't work. From England, William, 12, promised to help and warned Niazi not to write anything too negative about her government online.
None of these students had met one another in person. The class directory included people from 125 countries. But after weeks in the class, helping one another with Newton's laws, friction and simple harmonic motion, they'd started to feel as if they shared the same carrel in the library. Together, they'd found a passageway into a rigorous, free, college-level class, and they weren't about to let anyone lock it up