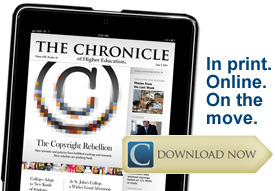 I truly believe that most of my full-time, tenure-track colleagues would rather quit their jobs than teach an online course. And that's a shame, since they are exactly the people who should be helping to set standards for meaningful online education.
My colleagues' concerns about the quality of online education could largely be overcome if more such courses were taught by talented and experienced professors known for excellence in face-to-face delivery. Some of the best learning experiences are student-centered, not faculty-centered. I realize that this requires us to let go of the idea that the three hours of weekly lectures we deliver in face-to-face courses add significant value to student learning.
We need to get over ourselves. We have created passive students who never crack a book and don't know how to learn. Faculty members complain about lack of student motivation, yet continue to use the same methods expecting different results. A well-designed, student-centered online course can improve student learning and teach students life skills across a much broader spectrum than a face-to-face course ever could. I think every student should be required to take at least one online course as part of his or her formal education.