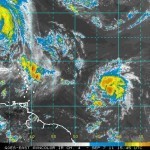 Tropical Storm Maria formed in the Atlantic, the 13th named system of the 2011 season, as Hurricane Katia weakened further on its path around Bermuda.
Maria developed about 1,305 miles (2,100 kilometers) east of the Lesser Antilles with maximum winds of 50 miles per hour, moving west at 23 mph, according to an advisory from the National Hurricane Center at 11 a.m. Eastern time.
"We got the 13th named storm of the season and it's in an environment that isn't conducive to explosive strengthening," said Dennis Feltgen, a spokesman for the hurricane center. "In fact, we have it as a tropical storm through the end of the five-day forecast period."
A low-pressure system over the southwestern Gulf of Mexico off the Yucatan Peninsula is showing "signs of organization" and may become a tropical depression in the next day, according to the center. An Air Force Reserve hurricane hunter aircraft is scheduled to investigate the system today.