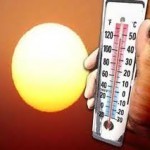 Heat Wave Dangers. Preventing Heat Stroke and Heat Related Illness
As the summer sun beckons, our thoughts turn to backyards, pools and beaches, picnics, and the wonderful world of outdoor fun. It is a glorious time of year but, sometimes, summer's heat can be a bit too much for our bodies to handle.
When a heat wave strikes, knowing how to prevent heat-related illness can ward off trouble before it's too late. Be smart this summer … know how to prevent overheating and enjoy summer fun to the fullest.