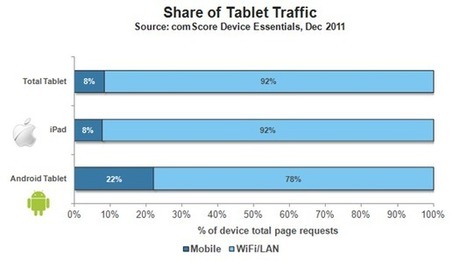 How are these devices different?
In a recent webinar collaboration with Performics, we explored the differences between the smartphone and tablets from both a behavioral and functionality perspective, and then dug into some specific techniques you can utilize.
Behaviorally, the first thing to note is where consumers use the devices. Smartphones accompany consumers pretty much everywhere they go. As they explore the world, their search activity on this device mirrors this ambulatory motion. People look for maps, news bites, pricing comparisons, restaurants, and the like. This on-the-go activity is further supported by the fact that 63% of all smartphone internet access is done via the mobile network.
Tablets, on the other hand, are primarily being used in the home at this time, with 92% of tablet internet access happening on WiFi networks. People use their tablets while lying on the couch, possibly in bed watching TV, surfing the web while lounging. Perhaps it's the first truly lean-back/lean-forward device. Ultimately the search activity on tablets more closely reflects that of the PC given the similarly stationary environment.