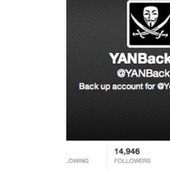 A Twitter shit-storm is brewing. A hugely popular Anonymous twitter account, @youranonnews, which boasts 750,000 followers was suspended minutes ago, and if there's anything the hacktivist collective hates it's online censorship.
Not that that will matter to Anonymous partisans. YourAnonNews is now tweeting from a backup: @YANBackup. Stay tuned.
Update: YourAnonNews is back. According to an email from Twitter they posted, they were indeed suspended for violating Twitter's privacy guidelines for a tweet about the Westboro Baptist Church's Shirley Phelps.