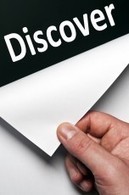 Ask 10 marketers what "content discovery" is, and you'll most likely get 10 different answers. With all this variation, it can be hard to determine if content discovery is just a buzzword or something that can add significant ROI to your marketing.
Content discovery has two sides:
1. The customer's perspective: Finding great content when you either know or don't know what you're looking for.
2. The marketer's perspective: The process of getting your content in front of the right audience at the right time in the right channels. For some, content discovery is synonymous with recommendation engines — those platforms that use your online behavior and social networks to predict what type of content you'll want to look at next, and serve it up.
"Content discovery became important with the rise of social media," says Boštjan Špetič, CEO of Zemanta. "Suddenly, marketers didn't understand how to reach customers because customers were bypassing traditional marketing channels and referring each other to content. Tools and analytics then tried to make this referral process predictable.What does it all mean for content marketers?
Via
Brian Yanish - MarketingHits.com