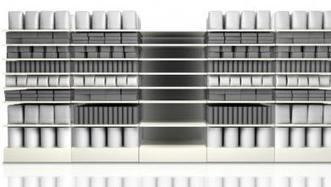 Experts think it's inevitable that sales of many non-perishable grocery categories will eventually take place online. Retailers need to meet that demand, but also the creative challenge of what to do with the space that it will open up in stores. Thom Blischok of Booz & Co. shared his ideas about "Tomorrow's Trends Delivered Today: Store Design Trends — The Path to 2025" at a recent Food Marketing Institute conference, and then in an interview for this section.

Today, 80% of the store is in merchandise, while 20% is accounted for by services, he said. Meanwhile 75% of capital investment dollars go to the store perimeter, while 15% is spent on center store, and 10% goes to the front of the store.
"Recognizing that there is a movement to the Internet, becoming world-class at what you do on the perimeter and with services is critical," Blischok said in an interview after he presented his concepts at the recent Food Marketing Institute Energy & Store Development Conference in Baltimore.
Future store designs will have to account for certain center store categories moving online, which will result in much more available space in the store; decisions will have to be made about what to do with that space.

Read More: http://supermarketnews.com/store-design-amp-construction/future-online-sales-open-space-design-innovation#ixzz2r8V6f7B2