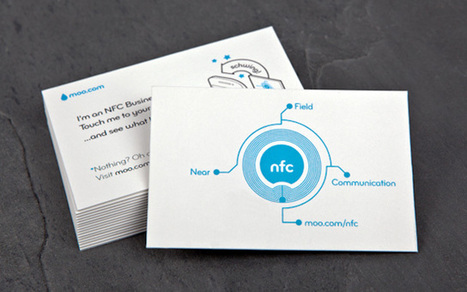 Barring the new iPhone 5 (ironically) Near Field Communication (NFC) is the latest and greatest feature in phones. While being able to bump a photo to a friend's phone may be entertaining, there are those that would still say it's just a gimmick, as opposed to a genuinely functional tool. Anyone with an imagination can see what kind of horribly awkward scenarios could come from accidentally sharing the wrong file with someone. But what if you could had a way to way harness this technology in a very controlled and far more professional function?
Enter NFC Business Cards. The good people at Moo have dealt another blow to traditional print media by redesigning and repurposing one of the most standard of business tools. Simply tap your NFC business card to an NFC enabled device (sadly, not the iPhone 5) and present them with information that a traditional business card simply can't.
Do you have an awesome video resume? Hook it up to your business card. Take them directly to your Facebook page, to your blog, take them anywhere you want with a simple tap of a card. We could very well be entering a future where a well designed business card that doesn't have First Launch capabilities just won't cut it.
Via
Mike Rozelle