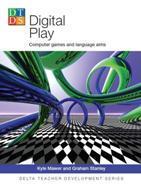 Digital Play is available as both paperback and e-book. The e-book is available in the Kindle store where you can download the free Kindle reading app for every major smartphone, tablet, and computer.
Digital Play was winner in the Innovation in Teacher Resources category at the 2012 ELTons!
Digital Play is a pioneering book on the use of computer games in language teaching, in which the authors share their expertise in training teachers in innovative classroom practice with their excitement for teaching with technology.