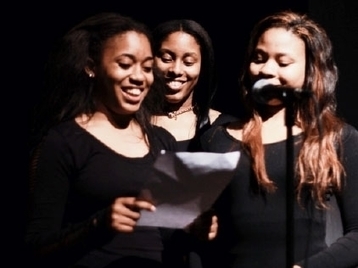 In recent years, much has been made of connected learning, and of new media's power to expose students to new ideas, perspectives, and communities of thought.
But what about those students given few opportunities to see beyond their own backyards, or for whom the 24-hour media cycle can seem like a relentless onslaught of violence, negativity, and stereotyping? How can we as educators use the tools of connected learning to empower students to take their stories into their own hands and speak out on behalf of the places and people they call home?

This was the core question posed by The 524 Project, a dynamic collaboration between arts educators in Washington, DC and Detroit. Inspired by a 2009 TED Talk given by novelist Chimamanda Ngozi Adichie on "the danger of a single story," DC-based Young Playwrights' Theater (YPT) and Detroit-based InsideOut Literary Arts Project (iO) developed a hybrid curriculum of spoken word poetry, playwriting, and media arts that empowered our students to challenge the mainstream culture's prevailing narratives about their cities.
We called the program The 524 Project, after the 524 miles between DC and Detroit, and in the spring of 2014 we taught it simultaneously to a class at Ballou Senior High School in southeast DC and a class at Western International High School in southwest Detroit.
Click headline to read more--