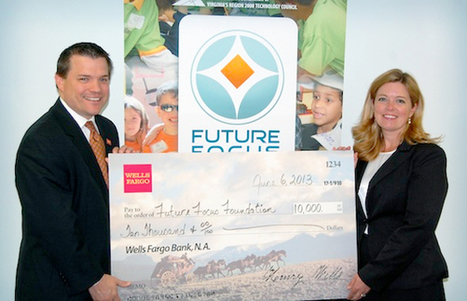 The Future Focus Foundation, the education foundation of Virginia's Region 2000 Technology Council, has received a grant in the amount of $10,000 from the Wells Fargo Foundation to support Lynchburg Regional FIRST LEGO League and to purchase equipment for the new XLR8-Lynchburg Regional Governor's STEM Academy.
FIRST programs have been a successful part of our region's S.T.E.M (science, technology, engineering, and math) program for over five years annually reaching over 200 participants. FIRST LEGO League is "an exciting and fun global robotics program that ignites and enthusiasm for discovery, science, and technology in kids ages 9-14 (grades 4-8)." The Future Focus Foundation has taken the lead role in organizing the tournament with the continued support of Central Virginia Community College. The tournament is scheduled for November 9, 2013 at Timberlake Christian School.
The XLR8-Lynchburg Regional STEM Academy is scheduled to launch in August in 2013, with the first class of students taking dual enrolled courses in the "Pathway to Engineering." Support from the Wells Fargo Foundation will allow the purchase of necessary robotic equipment for academy coursework. The XLR8-STEM Academy is an initiative to offer local students the opportunity to graduate with multiple options for success in STEM industry fields or pursing post-secondary education. XLR8 dovetails with current regional K-12 STEM activities and workforce development initiatives. The goal of this institution will be to help close the gap between education and industry, furthering the economic vitality of this region.
Click headline to read more--