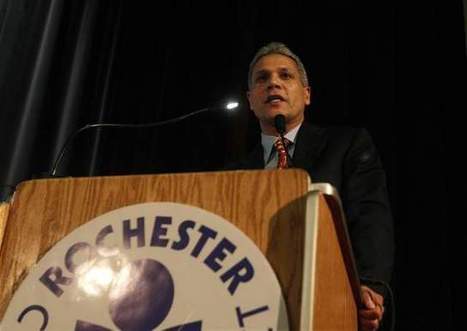 Improving the performance of Rochester's consistently underachieving public schools can be as difficult as reversing decades of racially embedded disparities. Or it can be as simple as getting kids behind desks.
In a district that has seen too many well-intended but quickly forgotten programs come and go over the years, a back-to-basics approach — reinforced by involved families, engaged businesses and committed community organizations — offers the best chance to reverse flailing graduation and post-high school readiness rates.
And Basic No. 1 is attendance. Simply put, students have to be in school to learn. Too often, they're not. In droves. Last year, an estimated 4,000 students missed at least a month's worth of school — half of them in kindergarten through eighth grade.
Superintendent Bolgen Vargas has gone as far as to hit the streets in search of truants. It shouldn't come to that.
Parents are clearly falling down on the basic responsibility of ensuring their children are in school. Extended family members need to step up and step in. The public can help. School-age youths out during school hours can be reported to the school's truancy hotline at (585) 262-8105.
Consistent attendance will help students achieve Basic No. 2: Literacy.Vargas has set a goal of having all students capable of reading at grade level by third grade. He — and the district as a whole — must hold tight to this vision. Basic reading skills are the foundation of learning; failure to master them by third grade hangs a huge anchor on a student's ability to eventually sail to graduation. The result: In Rochester, minority dropouts are more likely to join the already-swelling ranks of the unemployed.
Click headline to read more--