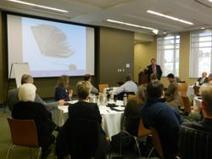 A new high-speed fiber optic network in North Georgia prompted a meeting March 15, 2013, of eight school systems, the University of North Georgia, the Georgia Department of Education and the North Georgia Network to talk about developing a regional education network to share learning in North Georgia.
School superintendents and information technology directors from Forsyth, Lumpkin, White, Habersham, Union, Dawson, Towns and Franklin Schools, meeting at the University of North Georgia, agreed to share and develop an "educational cloud" on the North Georgia Network, which connects schools in the region. This shared information access allows such things as electronic textbooks, internet security, and access to college classes and video conferencing, needs that were recognized in meeting discussions.
"This new fiber network is the foundation of future technologies for K-20 education in Georgia," said William Sperin, Information Technology Director for White County Schools, who organized the meeting. "It will enable our students to achieve things they never dreamed of as they pursue their careers."
The North Georgia Network, in addition to providing a gigabit Internet connection to schools in the region, has also developed a 10-gigabit cloud for exclusive use by the school systems. Schools will govern the content, activity and access to this cloud, which is dedicated to the development of shared educational services.
Click headline to read more--