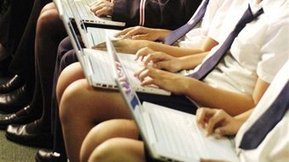 With the proliferation of mobile devices such as laptops, tablets and smartphones, the Bring Your Own Device (BYOD) trend is increasingly spreading in Australian schools, transforming the way students learn and how, where and when they consume educational information.
The BYOD strategy in schools has been at the centre of many debates around whether students should be allowed to bring their own smartphones and tablets - especially now that the laptops supplied by the federal government have reached the end of their lifespan. And while there may be naysayers, the benefits of schools adopting a BYOD strategy are numerous - for schools and for students.
The reality is most kids now carry a mobile device in their backpacks and they interact with technologies such as tablets, smartphones, laptops, the internet and social networking sites at home as part of daily life. Students have access to various resources online, beyond the typical classroom and hardcopy textbooks and they can access them through any mobile device anytime, anywhere. With the new generation of kids being exposed to mobile devices basically from birth, there is an expectation educational institutions will allow access to these technologies to support learning in the classroom.
Click headline to read more--