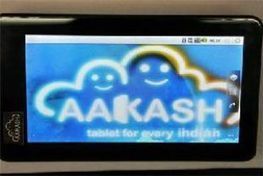 The idea was, and still is, captivating: In 2011, the Indian government and two Indian-born tech entrepreneurs unveiled a $50 tablet computer, to be built in India with Google's free Android software.

The government would buy the computers by the millions and give them to its schoolchildren.

Enthusiasts saw the plan as a way to bring modern touch-screen computing to some of the world's poorest people while seeding a technology manufacturing industry in India.
Legions of customers placed advance orders for a commercial version of the tablet, thrilled at the prospect of owning tangible proof that India was a leader in "frugal innovation."

Even the secretary-general of the United Nations, Ban Ki-moon, lavished praise on the audacious project, called Aakash, the Hindi word for sky. "India is a superpower on the information superhighway," Ki-moon said at a ceremony in November at the U.N. headquarters in New York.
Stoking expectations was Suneet Singh Tuli, the charismatic CEO of the small London-based company that won the bid. "I am creating a product at a lower price than anyone else in the world with the hope that it impacts people's lives and I make money out of it," he said in a recent interview.

But over the past few months, it has become increasingly evident that Tuli, 44, and his older brother, Raja Singh Tuli, 46, are unable to deliver on most of their ambitious promises.
Click headline to read more--