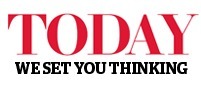 Singapore's media landscape is changing - and the government agency that oversees it is in the midst of the swirling changes.

For the Media Development Authority (MDA), 2012 has been an eventful year, one that includes Aubeck Kam stepping down as CEO, replaced by Koh Lin-Net, former Deputy Secretary (Trade) at the Ministry of Trade and Industry. Kam's two-year stint was seen to be a successful one, brought in to "clean house" as it were - streamlining a tangled mess of grants schemes, suing companies over unpaid loans and undelivered projects that put the agency in a bad light.

There were changes and initiatives rolled out on many fronts. The New Talent Feature Grant was introduced for first-time film-makers; more money was pumped into the Public Service Broadcast programme to boost shows for local television; a new and improved Screen Singapore with a concerted effort to put the spotlight on the local industry; the Singapore Film Commission's Watch Local initiative; a push for local music on TV and radio; giving the go-signal for cable TV companies to offer R21 content on video-on-demand platforms; the announcement that free-to-air TV channels are all due to go digital; a thrust for cross-platform content as boundaries between different media blur; among others.

"On the whole, 2012 has been a good year. It is a year of big change and 2013 will see the results of some of those changs," surmised Yeo Chun Cheng, MDA assistant CEO (Industry).

It's in this promising context that two of the year's most controversial incidents emerged as stark reminders of the tricky nature of this new media landscape: The Amy Cheong episode and the U-turn involving Ken Kwek's omnibus Sex.Violence.Family Values (SVFV).
Click headline to read more--