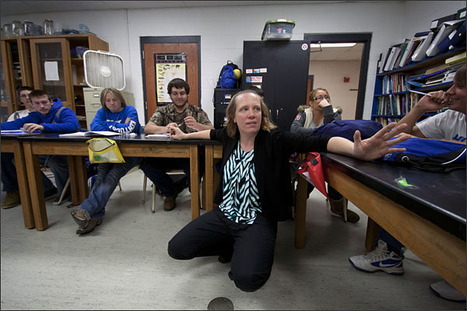 The 4th graders in Mason A. Kuhn's classroom recently wrapped up an unusual assignment: Write a science-themed book and make the target audience not their teacher but 2nd graders at Shell Rock Elementary in northeastern Iowa.
One student wrote and illustrated a cartoon about a feline named Space Kat trying to figure out how to power up her rocket ship to get back home. Along the way, the story explored concepts such as gravity and friction.
At Lewis County High School in Vanceburg, Ky., science teacher Sara M. Poeppelman asks her chemistry students to closely read and analyze an essay Albert Einstein penned in 1946 for a popular science magazine.
The two science-related assignments dovetail with the call in the Common Core State Standards to teach literacy across the curriculum. The English/language arts standards adopted by all but four states specifically highlight the teaching of reading, writing, and other literacy objectives in science, history/social studies, and technical subjects.
Click headline to read more and access hot links--