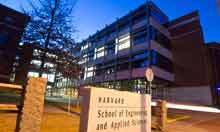 I have never liked the idea that in the future we should think of students as "customers" with a relationship to universities defined by money. For me, students are primarily learners – a controversial position, I readily concede, but in my defence I see this in the context of new models, new institutions, new technologies and new relationships for learning.
There are some who argue that the future of learning and the student experience is online. Such projections are as old as the internet itself, but they have recently enjoyed renewed interest through the idea of moocs (massive open online courses) where universities provide open access to their learning content through online platforms. Some serious brands have tentatively engaged with the model such as MIT, Harvard, Princeton and Berkeley. These platforms include Udacity and the Khan Institute. One of these, EdX, has said it hopes to teach a billion students; another, Coursera, advertises with the strapline "Take the World's Best Courses, Online, For Free".
On the surface this might appear to be a serious threat to some campus institutions: what simpleton wouldn't want a degree from Harvard for free? Of course, that is not what is, was, or ever will be on offer, but such headlines are irresistible. So far, most mainstream institutions have breezily dismissed the idea of moocs as a genuine threat, specifically because there is no credit or certification offered with these courses (nor, for that matter, much academic or pastoral support either, though you might get a certificate of completion).
Click headline to read more and access hot links--