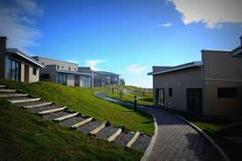 Emthonjeni Arts is aimed at regenerating the area and turning it into a niche tourism destination with a central focus on art and the development of local artists. The artist retreat is now nearing final completion. The site for the residency was chosen as part of the development of a spatial development framework for the whole town.
It is on a north-facing brow of a hill overlooking the Keiskamma River and estuary and slightly shielded from the prevailing winds from the sea. Its location has been strategically chosen to promote further development around it and around developing Hamburg as an Arts town.
The vision of the retreat is to provide a creative space for local and international artists to develop and perfect their craft in a special environment. The retreat periods will be linked to other major art events such as the Grahamstown National Arts Festival.
Sustainability of the retreat will be ensured through strategic partnerships with stakeholders by, among other things establishing an endowment fund, scholarship or bursary sponsors to ensure residencies for artists, and the establishment of an Artists' Ambassadorial Network.
Click headline to read more and access hot link--