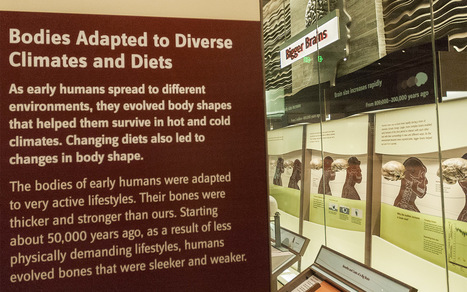 Last month's demonstrations outside the National Museum of Natural History might not have prompted the public outcry activists had hoped for, but the claim that David Koch's relationship to the museum impacts the content of their Human Origins exhibition deserves consideration. It's difficult to know what specific, subtle influences a wealthy donor and board member might hold over any given organization, but it's not hard to examine the quality of the work they sponsor.

"The David H. Koch Hall of Human Origins" prominently names its $15-million sponsor and National Museum of Natural History board member throughout, lending an unfortunate air of scientific gravitas to the co-owner of energy-and-chemical conglomerate Koch Industries, a man who once claimed contemporary global warming might actually be beneficial to humans.
Koch has held uncanny sway over other public institutions through donations in the past, and he, along with his brother Charles, regularly opposes environmental regulations through funding libertarian advocacy groups. (When asked about the protestors' scientific objections last month, Linda St. Thomas, a spokesperson for the Smithsonian, denied allegations that the exhibit is misleading and pointed to the Smithsonian's prior public statements on donors and climate change.)

But it's the hand of Smithsonian scientist Rick Potts, the exhibition's curator, that is most apparent. Many, many scientists and researchers contributed to the hall, but Potts, a well-known paleoanthropologist, has been the director of the Museum of Natural History's Human Origins program since 1985. He clearly speaks for and crafts the display.

At the entrance to the exhibition, below Koch's large-lettered name, there's a mission statement: "Travel back 6 million years to discover how our ancestors struggled to survive dramatic climate changes and, in the process, evolved the traits that make us human."

If you don't recall your biology teacher talking about the role of climate change in human evolution, you're not simply forgetting your education. A quick perusal of Wikipedia's page on evolution or PBS's online evolution resources won't net you any mention of climate change as a driving factor (let alone "the" driving factor) of natural selection or human evolution. So how did it become the core tenant of the exhibit?
Click headline to read more and access hot links--