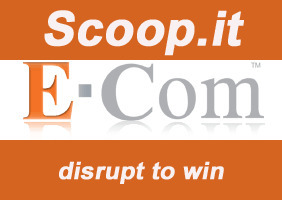 Content or Conversion
Ecommerce (B2C) merchants are narrowing the "content marketing" gap with their B2B cousins, but the old left/right brain problem remains. Ecommerce requires a strange synergy between right brain creativity (design, merchandising, visualization) and left-brain science (analytics, metrics, KPIs).

If you asked me the greatest challenge from my 7 year Ecommerce Director tenure it would be finding ways to win on both sides of the content - conversion Rubicon.

When we thought we had the content dial just right it would tank our conversion metrics. Each time we thought we had conversion set up perfect our "content" metrics like pages viewed, time on site and bounce rates would disintegrate.

Finding the tiny balance beam between CONTENT's heuristic benefits (more time on site, better engagement, more Lifetime Value, better quality User Generated Content and more of it) and conversion's MONEY was hellish.

Scoop.it To The Rescue
If you run a multi-million dollars ecommerce website and aren't using Scoop.it you're nuts. There is NO faster content feedback tool than Scoop.it (period, full stop).

Here are ways I would be using this magic wand of a tool if I was still responsible for more than $6M in online sales yearly:

* Test contest and game ideas.
* Test Q&A content (most shared WINS a page).
* Find and empower brand advocates (buzz team).
* Watch competitors like a HAWK (with keyword tool).
* Watch my key brands like a HAWK (also with keyword tool).
* Ask for help (amazing talent in Scoop.it community).
* Reward previous helpers with Scoop.it profiles and long thank you notes).
* Copy Scoop.it's brilliant soft gamification and leader boards.
* Crack the API and find ways to build curation as a "channel" with a P&L, a budget and distinct goals.
* Partner with the Scoop.it team to find common points and tap their community for "testing before you test" ideas.
* Look to create an uncapped incentive plan with Scoop.it team to weigh, measure and value traffic and conversions from the channel and PAY THEM a % of the action they create.

This last bullet is worth MILLIONS . Instead of simply thinking about the very cool curation tool I would set up "content curation" as a marketing channel with a budget. Next I would call Guillaume and Marc and ask to meet in SF.

At that meeting I would pitch a mutually beneficial partnership. Instead of approaching the partnership in a static way I would pitch the Scoop.it team on a more