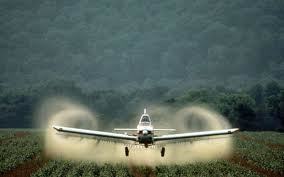 Crop dusting is a dangerous occupation and requires flying only a few feet off the ground and avoiding power poles, silos and large blunt objects that can kill. Many crop dusting pilots have an exciting career but short lives. Listening to their stories of close encounters and near misses, is enough to make you want that boring desk job or become a chicken plucker.
Too much excitement can be fatal in a career.
The best height to spray chemicals is about 8-9 feet off the ground, but to keep the farmers happy, pilots often have to fly at a height of 5-6 feet (it looks much more impressive, but doesn't distribute the pesticides properly due to turbulence).
Fly too high and it looks like you are not doing your job. As the farmer is the customer and paying the bills, most pilots fly lower than they should.
But they get paid.
Social media marketing is sometimes a bit like that.