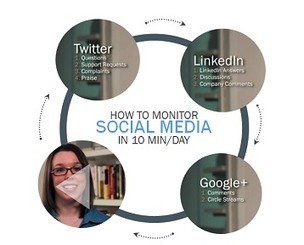 The average budget spent on social media and company blogging increased from 9% in 2009 to 21% in 2012. Businesses are clearly finding value in social media.
Monitoring different channels, however, can take a lot of time. Where do you start?
Watch HubSpot's 10-minute video on how you can streamline your social media monitoring while saving time!
This video will teach you the most important elements you should be monitoring across relevant social media networks. Rebecca Corliss, HubSpot's social media lead generation expert, suggests a few practical habits you can adopt to maintain a powerful social media presence.
After viewing this 10-minute video, you'll know:
- How to best spend your time monitoring social media
- How other marketers are spending time on social media
- What tools consolidate your social media information
- What you should be monitoring on Twitter, Facebook, LinkedIn and Google+