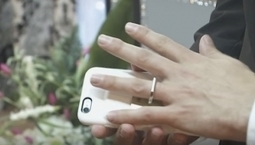 How much do you love your smartphone? Aaron Chervenak loves his enough to want to marry it—and he did, in a little chapel in Las Vegas. In a video that document the "slightly unorthodox ceremony", Chervenak discusses the reasons why he wants to tie the knot with a piece of technology.
According to him, "we connect with our phones on so many emotional levels—we look to it for solace, to calm us down, to put us to sleep, to ease our minds", which to him is what a relationship is about.
While this unconventional union is not legal, Chervenak hopes that his wedding would "act as a symbolic gesture to show how precious our smartphones are becoming in our daily lives"....
Via
Jeff Domansky