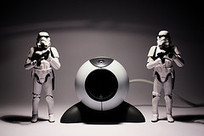 In brief: As librarians we continue to grapple with our role in a world of digital information. The case has been made for an enthusiastic embrace of cutting edge technologies and the development of a 'startup culture,' and a role as 'gap filler' supporting faster take-up of new technologies. Rather than blindly supporting a market-driven technology industry, librarians should ensure the privacy and autonomy of library users is protected. When considering how we can use technology, librarians must remember our core values, and our mission of empowering an informed and free citizenry.
Murphy's 'gap filling' proposal was pre-empted by David Lankes in 2012, when he wrote:"If libraries continue to be remedial organizations, focused solely on the problems and deficits of our communities the communities themselves will find libraries obsolete"
The main problem with Murphy's vision of libraries as a 'gap filler' is the question of who determines where the gap lies, and who determines how it is to be filled.
Via
Trudy Raymakers