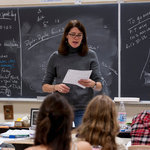 There is a widespread belief among teachers that digital technology is hampering students' attention spans and ability to persevere, according to two surveys.
(...) The surveys include some findings that appear contradictory. In the Common Sense report, for instance, some teachers said that even as they saw attention spans wane, students were improving in subjects like math, science and reading.
But researchers said the conflicting views could be the result of subjectivity and bias. For example, teachers may perceive themselves facing both a more difficult challenge but also believe that they are overcoming the challenge through effective teaching.
Pew said its research gave a "complex and at times contradictory" picture of teachers' view of technology's impact.