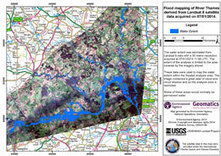 Ongoing storms and heavy rain since 23 December 2013 has caused flooding across the United Kingdom. One person has been reported killed, and it is estimated that over 300 properties have been flooded so far.
In England a number of major rivers are in the process of flooding, or are expected to do so over the next few days. Significant flooding is expected along the Thames, Severn, and Stour rivers. Due to the continuing rain, saturated ground is also contributing to flooding.
Roads and train services have been disrupted by the flooding and turbulent conditions.