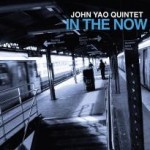 Wow. Trombonist John Yao's debut album, and it is damn strong. Featuring Jon Irabagon on soprano, Yao weaves a deliciously textured album that seems of greater fullness than five instruments could create on their own. Songs like "Shorter Days" are just so joyful. Yao also leads the Yaozeki Big Band, which must inform his approach to the quintet based on the depth of In the Now.
Your album personnel: John Yao (trombone), Jon Irabagon (Alto & Soprano Saxes), Randy Ingram (Piano), Leon Boykins (Bass) and Will Clark (Drums).
One of those albums where there's a lot going on, plenty of complexities, yet remains inherently listenable. An engaging album that you can just sit back and enjoy. An album for old and new school jazz fans alike, and a terribly promising sign that this is Yao's debut album. I'm already looking forward to hearing what comes next.
Jazz from the Queens scene in NYC.