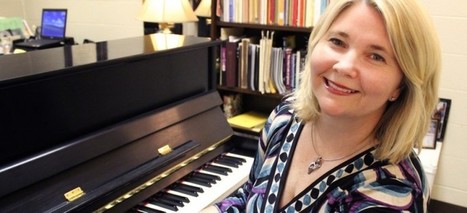 It's not every day that you get to perform on tour in Italy — twice. Nor is it every day that you record a debut solo album on a major record label.
Polly Butler Cornelius, senior lecturer of music and voice at Elon University, has done both of these things, with the release of her classical CD, "Wild Songs," coming April 24.
"I've always been musical," Cornelius said. "I just can't do anything else."
Cornelius, a soprano, said she was overjoyed to collaborate with composers on the official label for the American Composers Forum, Innova Recordings.
"About five years ago, I started finding my niche with premiering songs by living American composers," Cornelius said. "I wanted to celebrate their work, and I found that I had a calling to do that."
The album is also a plea for the environment, Cornelius said. The set of three "Wild Songs" is commissioned by the National Wildlife Federation to raise awareness about the environment. The other songs on the CD are based on Emily Dickinson's poetry and a I Corinthians verse from the Bible.
"There are lots of themes related to nature and love," she said. "And the songs aren't weird — they're very beautiful."
Cornelius collaborated with several Elon faculty members on the album, including Victoria Fischer Faw, a professor of music who provided piano accompaniment for most of the songs. Although this was their first recording project, the pair has a rich history after touring in Italy together twice.
"Traveling as a performer is challenging but wonderfully rewarding," Faw said. "Polly and I have always had a deeply intuitive response to each other when we're performing. That doesn't always happen, but we have it."
Though Cornelius thought performing American songs in Italy might be risky, she said the audiences loved them and she was glad to perform successfully on an international scale. One of Cornelius' favorite experiences was performing for middle school students in a 14th century concert hall in Foligno.
"It was the most appreciative audience I've ever performed for," Cornelius said. "They went crazy and wanted to get our autographs. I really felt like a respected international performer."
But music isn't Cornelius' only passion. She also loves teaching and watching her students grow as artists, including junior Natalie Dupuis, one of Cornelius' voice students.
"She is a wonderful teacher who places a lot of emphasis on getting to know us personally," Dupuis said. "She works so hard and she has a beautiful voice, so it's thrilling to be able to celebrate this great accomplishment with her."
And even if a student isn't majoring in music, Cornelius said she wants to be sure her students have a lifelong love and appreciation for such a significant art form.
"I think music is a universal language," Cornelius said. "And as a universal language, everyone enjoys some sort of music. Imagine going to the movies and not having a film score playing. Music is all around us and it feeds the soul."
Cornelius will be signing copies of "Wild Songs" at a release party for the album, which is available for presale now. The party will take place at 4 p.m. April 22 at the Elon School of Law in Greensboro.