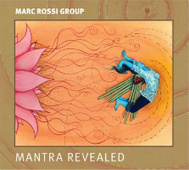 Personally, I think it's great when jazz and Indian classical music combine to create a wicked fusion, and when it truly works, I tend to be blown away by its perceived strength and majesty. This is the case with Mantra Revealed (Innova) by The Marc Rossi Group. The album truly takes you to places you've either dreamed about or have visited before and want to go there again. Rossi's piano work is nothing short of brilliant, and while both styles of music are rooted differently, it is that common ground that not only becomes a challenge but also a joy to listen to.
One theory I had read is that while jazz can be improvisational, and some styles of Indian classical music are open to any form of inspiration, both are distinctly different. Jazz musicians have been interested in the music of India for ages, and some Indian musicians have enjoyed being able to not only to listen and learn from jazz, but also to get involved whenever possible. Prasanna is a guitarist with a lot of work in his discography (including film scores), and here he takes to his instrument and approaches it by playing melodies that one might expect to hear from a sitar or sarod, understanding the specific time signature and going for broke while taking the song to very cool places. They all become journeymen, and you are a part of that journey.
The other songs are also great explorations of sound, my favorites on this include "New Beginings", "Sahara", and "Feast Or Famine", and when Rossi opens up and starts getting deep into the emotion of the song, the listener truly feels it. His group assist him throughout, and it's impossible to not say "I want to join along". Mindblowing fusion without being "jazz fusion" as you may know or expect. I love this.