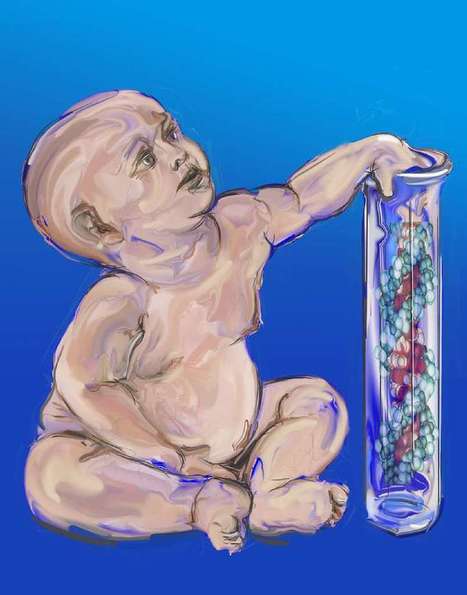 A rare occurrence in the earliest days of a pregnancy produces an unusual and mystifying outcome: Identical twin fetuses are conceived of the same meeting of egg and sperm. And despite their shared DNA, one of the twins has Down syndrome (the most common genetic cause of intellectual impairment), but the other does not.
But these aborted identical twins -- one with an extra copy of chromosome 21 and the other without -- offered scientists a remarkable opportunity: given the twin fetuses' otherwise exact DNA match, how would this one difference translate across the genome?
That natural experiment allowed a group of geneticists from Switzerland, Spain, the Netherlands and France to distill some fundamental insights into how chromosomes -- and the genetic blueprints they contain -- dictate the behavior of cells across the body. They found that when gene expression is altered by, say, an added chromosome, it is altered in consistent patterns in every chromosome, not just the one with the irregularity.
A few things follow from that: First, it lends credence to scientists' long-running suspicion that chromosomes -- between 50 and 100 base pairs of DNA -- may be organized along functional lines, such that certain stretches of a chromosome may hold the genetic blueprint for proteins that work together in some predictable way. If they are organized functionally, they're not random. And if they're not random, they can (someday) be understood.
Trisomy 21 is the most frequent genetic cause of cognitive impairment. To assess the perturbations of gene expression in trisomy 21, and to eliminate the noise of genomic variability, we studied the transcriptome of fetal fibroblasts from a pair of monozygotic twins discordant for trisomy 21. Here we show that the differential expression between the twins is organized in domains along all chromosomes that are either upregulated or downregulated. These gene expression dysregulation domains (GEDDs) can be defined by the expression level of their gene content, and are well conserved in induced pluripotent stem cells derived from the twins' fibroblasts. Comparison of the transcriptome of the Ts65Dn mouse model of Down's syndrome and normal littermate mouse fibroblasts also showed GEDDs along the mouse chromosomes that were syntenic in human. The GEDDs correlate with the lamina-associated (LADs) and replication domains of mammalian cells. The overall position of LADs was not altered in trisomic cells; however, the H3K4me3 profile of the trisomic fibroblasts was modified and accurately followed the GEDD pattern. These results indicate that the nuclear compartments of trisomic cells undergo modifications of the chromatin environment influencing the overall transcriptome, and that GEDDs may therefore contribute to some trisomy 21 phenotypes.
Via
Dr. Stefan Gruenwald