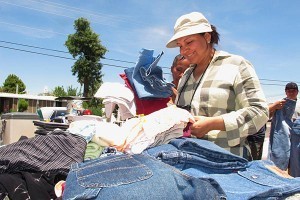 Inspired by a gringa named Sra. Lopez who runs one of the most compelling Hispanic-interest blogs on the World Wide Web (
www.Latinaish.com
), centered on her life as a Caucasian-Latina, I had to write about our obsession as Latinos with being frugal and always finding deals wherever we go, at least in my world. Her latest post, If they buy it, sell it, pues, explored her suegra's overzealous joy with receiving trash bags full of used clothing and how she finds a use for everything inside, even the lingerie.
A very entertaining read like most things blogged about by Sra. Lopez.
Plus it got me thinking about my own madrecita who coincidentally has very good luck with garage sales all the time. You could ride in the same car with her, stop and shop at all of the same houses, and spend the exact same amount of money, and she would still come back with more and better things than you, literally. The used pairs of shoes, 50 cents each, electronics past their prime yet still in working condition, furniture, items of clothing, or whatever else, there is a science to the way she shops. Not for herself or the luxury of shopping, but for others and for business. Like la gringa's suegra, she gives away whatever can be recycled within her circle of family and friends and sells the rest, here and in Mexico. In fact, her garage sales have garnered quite the reputation in Cerritos, San Luis Potosi for offering quality items at the cost of just a few pesos. People even place orders with her now...