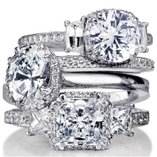 Jewelers Tacori and Michael C. Fina are sending participants in the annual Diamond Dash charity event to scavenger hunt clues via SMS and relying on the mobile messages to choose this year's winner.
The third annual "Diamond Dash: Dash for a Diamond & a Cure" will be held Nov. 14 in New York to benefit The Leukemia & Lymphoma Society. In a departure this year, couples residing in all 50 U.S. states are eligible to participate.
"There is a viral aspect to this campaign with photos being taken and shared," said Jeff Hasen, chief marketing officer of Hipcricket, Kirkland, WA. "It creates a level of excitement that extends beyond just those who are part of the hunt."
Mr. Hasen is not affiliated with Michael C. Fina or Tacori, but agreed to comment as an industry expert.
Via
sheenadeanne