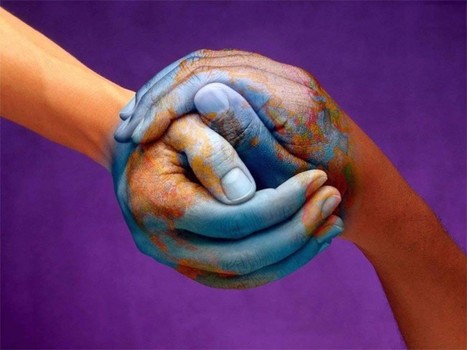 Lee Ann Thill writes:
'In an effort to be more widely recognized, over the last year, the DOC has adopted the blue circle, as evidenced by the support of initiatives like Blue Fridays and the Blue Heel Society, but only a year ago, there were still lingering doubts about how the DOC could symbolically represent itself in an easily identifiable way that would raise awareness for diabetes. Last year at the Roche Diabetes Summit, we broke into small groups to discuss issues and strategies relevant to the larger diabetes community, and one of the issues we addressed was how to resolve the color/symbol issue.
I advocated for the blue circle. I've been a fan of it since I started participating in World Diabetes Day a few years ago. It's simple, and it's different from a ribbon which sets it apart. I like that it represents unity and the community of people affected by diabetes around the world. I like that it has global power because it originates from the International Diabetes Federation. That was only a small part of the Diabetes Summit, but I believed the color/symbol problem was one we could do something about, and I appreciated that Roche structured the time so we could have small group discussions, in person, about this and other issues relevant to the DOC and the larger diabetes community.
The summit ended. I came home. The details of the color/symbol discussion faded, but the overarching idea that we needed to use the blue circle and advocate for its use by the broader community stayed with me. Incubating. Stewing. Percolating. Summer passed. Fall was upon us. Diabetes Awareness Month and World Diabetes Day were fast approaching. I wanted to do something meaningful with the blue circle that allowed for wide participation. Then the idea came to me, the World Diabetes Day Postcard Exchange, an idea that emerged from that opportunity to gather around a table with other diabetes advocates to flesh out the color/symbol problem and how to address it in a way that benefited the entire community.'