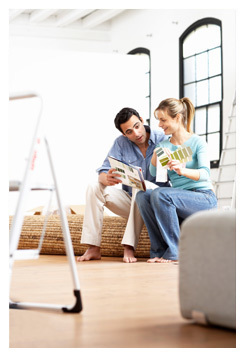 Catherine Price writes:
We're currently having work done on our house — we're renovating our bathrooms — and I'm finding that the vocabulary of home improvement has begun to take over my life. I can't look at our walls without thinking of the names of the paint colors (Clay Pebble, Seattle Mist). I sit at my desk in the library and notice architectural details that I previously didn't know even had words to describe them, like double-hung windows, or the plinths at the bottom of pedestals. Even my analogies have begun to take on construction-related undertones — editing a paper requires "removing scaffolding." And I'm spending a lot of time thinking about grout.
I bring this up because between the home renovation, book-writing, article-writing, diabetes management, and keeping up with my exercise routine, I've been feeling extremely stressed. It reminds me of a mistyped comment my husband once got on a work evaluation: he was doing a great job at keeping "a lot of balls in the area." The idea seems applicable to my life as well, except that I don't feel like I'm succeeding.
Which gets me back to my home improvement analogies: I've recently been thinking about something a contractor told us when we were first starting on this renovation project.
"There are three main variables to any construction project: speed, money and quality," he said. "You can get what you want for two of those things, but probably not all three."
And I think he's right: if you want a low price and quick turn-around, you'll sacrifice quality. If you want it to be super fast and high quality, it'll cost more. If you want quality and a low price, it'll take more time. You need to prioritize.
The same is true, I've decided, with diabetes management and the rest of my life....
[AS: Click on the title link above to read Catherine's full post on A Sweet Life]