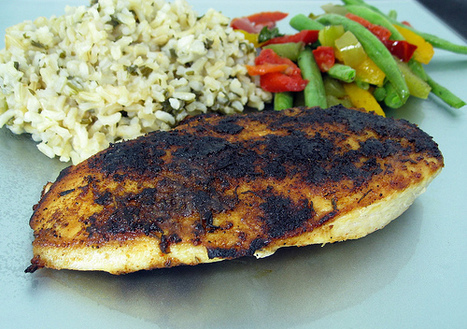 Linda Gassenheimer writes:
'Paul Prudhomme, considered the father of blackened redfish, gave me this tip, "My advice to people at home is bronzing rather that blackening. This avoids the smoke and the risk of handling a red-hot skillet while still achieving an excellent result."
The coat of this bronzed chicken breast is golden and caramelized from the cooking method.
The secret to bronzing is to keep the skillet at the right temperature. The chicken should take 6 to 7 minutes to cook. If it takes much longer, the skillet is not hot enough.'
[AS: the recipe can be found in full by clicking on the title link above.
I particularly like the fact that this diabetes-friendly cookery column includes carbohydrate counts and exchange/choice options.
Note: 1 US cup = approx. 250ml]