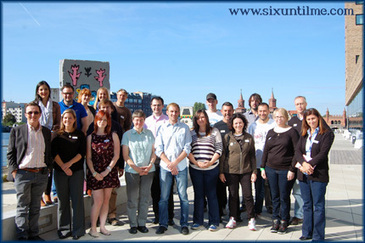 Kerri Sparling (@sixuntilme) writes:
Despite the fact that we came together from different countries, speaking different languages and bringing out collective diversity to the table, the common thread of diabetes brought comfort and community to a tableful of otherwise strangers.
Last week, while in Berlin, Germany for the EASD conference, I had the pleasure of meeting with and facilitating a discussion with many members of the European diabetes social media space. Actually, let me rephrase that: I had the freaking honor of being part of and completely inspired by this discussion. I've never been in a room with so many strangers at once that I felt completely in awe of and wanted to hug, simultaneously.
We had dinner the night before the summit, and about forty of us gathered into one room, comparing pumps and meters and guesses on the meal's carbohydrate content. I remain amazed at how universal the language of diabetes is - even if we don't full understand the words we're using, a beeping Dexcom or a mention of a blood sugar of 300 mg/dL makes everyone nod in effortless empathy.
The presentation I made was centered more in the why I started blogging, and how the emotional aspects of life with diabetes are often more challenging than the physical task of testing blood sugars and taking insulin. I talked about some of the relationships I've found in the diabetes community that have become honest and life-changing friendships, making "people from the internet" into actual influences in my "real life." (Plenty of shout-outs to my American blogger friends.) But what I really wanted to drive home was the point that the diabetes community isn't just something unique to the United States; it's a global community, and reaches far past the boundaries of the country I call home.
We talked about the what. What brought us to this space, online? What made us want to share our stories? Some were there because of their own diabetes, like Danie, Bastian, and Iris, and others were there because of the diabetes of someone they love, like Daniella. But we were all in that room together because we were sharing our diabetes lives online, in efforts to connect with our peers, both locally and globally. And these stories brought us together for just a brief moment, so we could raise our glasses to one another in person.
We talked about the how. How some are using personal blogs to tell their stories, sometimes working alone, and sometimes as an inseparable team. Others make use of forums and communities. Some use film to share their tale, like Bastian who takes to the sea with his meter and insulin pens on board. It wasn't about the medium, but more about the stories we're telling, and why they are important to share.
And we talked about the why. Why diabetes can be frustrating. Why it can be empowering. Why it brings together a group of strangers who may have otherwise never known of their respective existences. Why it's important for us to come together as a community, respecting and embracing differences but finding strength in what we have in common: this constantly shifting disease.
[AS: Click on the title link above to read Kerri's full post on the Six Until Me blog.]
Via
C8 MediSensors UK