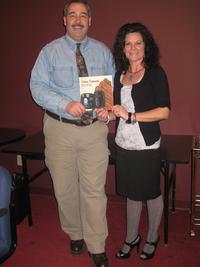 Lockport teacher's book raising diabetes awareness
BY JOE OLENICK
Lockport Union-Sun & Journal

Lockport Union-Sun & Journal — Sharon Saraf's first book has been published. It's a topic close to home for the Lockport teacher, one that hopefully raises awareness for Type 1 diabetes.

Saraf's "I Have Diabetes" is a children's book about a young boy who becomes ill and is diagnosed with Type 1 diabetes. Her inspiration is easy to see, as Saraf has a 12-year-old son Cole who was diagnosed with diabetes at age 3. Saraf's sister, Susan Brooks, has been dealing with Type 1 diabetes for over 35 years. The book is dedicated to both.
"I wanted to write a