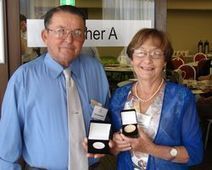 Recognition for decades spent living with diabetes
29 October 2012 , 10:21 AM by Jacquie Mackay
onclick="window.open( this.href, '_blank', 'width=640,height=480,scrollbars=no,resizable=no,toolbar=no,directories=no,location=no,menubar=no,status=no,left=0,top=0' ); return false" href="http://blogs.abc.net.au/.a/6a00e0097e4e688833017c32e386d9970b-popup">Back in the 1950s when Janet Duncanson and Mervyn Beckett were diagnosed with Type 1 Diabetes as children, they were both incredibly ill and lucky to be diagnosed when they were.
Now some 60 years on for Janet and 54 years on for Mervyn, they look back on the decades they've lived with their chronic disease and appreciate just how much has changed.
On Friday they were both recognised by Diabetes Queensland with Kellion awards for mark their personal triumphs in leading healthy and active lives with the disease.
Michelle Trute the CEO of Diabetes Queensland says sadly though we are seeing many many more people being diagnosed in the area.