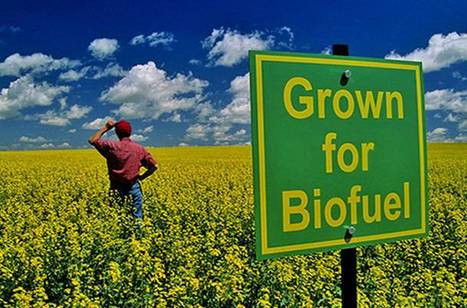 May 08, 2013 EurActive *EXCLUSIVE* / Leaders of the EU and their partners in the G8 nations are under mounting pressure to reconsider their support for biofuel targets amid concern that plant oil production competes with food output in poor countries....
http://www.euractiv.com/cap/g8-pressure-rethink-biofuel-mand-news-519583?utm_source=EurActiv%20Newsletter&utm_campaign=e1dcaf21b8-newsletter_daily_update&utm_medium=email&utm_term=0_bab5f0ea4e-e1dcaf21b8-245661818
++++WATCH++++ VIDEO REPORT - The Real News Jan 18,2013 +++BIO-FUELS, SPECULATION, LAND GRABS = FOOD CRISIS
http://therealnews.com/t2/index.php?option=com_content&task=view&id=31&Itemid=74&jumival=7818#.USSEGBnZ03Y
DISPELLING THE MYTH OF CLEAN, GREEN BIOMASS POWER DRIVEN BY THE BIOTECH INDUSTRY
http://sco.lt/8ZX41R
EU MINISTERS BLOCK EU ENVIRONMENT PROPOSAL TO LIMIT GMO BIOFUELS: FOOD OR FUEL?
http://sco.lt/5Ol1o9
February 2, 2012 EurActive EU CLIMATE CHIEF CALLS FOR 'MUCH CARE' ON BIOFUELS
http://www.euractiv.com/climate-environment/eu-climate-chief-calls-care-biof-news-510528
CONVERTING U.S. PRAIRELANDS AT DUST BOWL RATES FOR GMO BIOFUELS
http://sco.lt/54TNAH
CORN ETHANOL: BAD FOR FARMERS, CONSUMERS AND ENVIRONMENT - FARM SUBSIDIES
http://sco.lt/4knJIH
FOOD OR FUEL: BIG OIL AND BIG AG FIGHT IT OUT OVER ETHANOL BIOFUEL
http://sco.lt/4rDj1t
USA DEPT OF ENERGY AWARDS AGRIBUS GMO GIANT, MONSANTO, FREE PUBLIC LANDS TO DEVELOP ADVANCED BIOFUELS
http://sco.lt/8bEMYT
March 1, 2013 Guardian Environment THE BIOFUEL BELT KEEPS CREEPING ACROSS THE U.S. - AND IT'S WILDLIFE AND ECOSYSTEMS THAT LOSE OUT
http://www.guardian.co.uk/environment/blog/2013/mar/01/biofuel-habitat-loss-usa
WHAT DOES BIOFUEL HAVE TO DO WITH THE PRICE OF TORTILLAS IN GUATEMALA?
http://sco.lt/7OmWav
March 13, 2013 -Deutsche Welle: Environment & Development » BIOFUELS BOOM THREATENS GLOBAL BIODIVERSITY The rush around the world to plant crops used to produce biofuel has not only sparked a global food vs. fuel debate, but it's also putting biodiversity at risk....
http://www.dw.de/biofuels-boom-threatens-to-disrupt-global-biodiversity/a-16665847
GRAIN — LAND GRABBING FOR BIOFUELS MUST STOP
http://sco.lt/7LE5cv
MONSANTO GMO TREES COULD DEVASTATE FOREST ECOSYSTEMS
http://sco.lt/51ekyH
"SUSTAINABLE" PALM OIL SHOULD NOT DRIVE DEFORESTATION
http://sco.lt/7N5vU1
WATCH: +++ REMEMBERING 'GREEN' - AN ORANGUTAN'S JOURNEY - Winner of Best Short Documentary - A 2013 MUST AGENDA
http://www.scoop.it/t/biodiversity-is-life/p/3926142290/remembering-green-an-orangutan-s-journey-winner-of-best-short-documentary-a-2013-must-agenda
PALM OIL ECOCIDE - THE DEFORESTATION HOLOCAUST: Fast-Tracking Our Own Extinction
http://www.scoop.it/t/biodiversity-is-life/p/1510545458/fast-tracking-our-own-extinction-the-deforestation-holocaust-