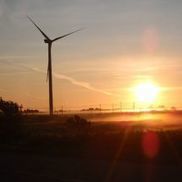 Is there such a thing as too much wind power? The small city of Summerside, located on Canada's Prince Edward Island, is home to approximately 15,000 people and 21 MW of wind energy. However, sometimes the city does not need all that power and is forced to sell the excess to neighboring regions. A novel pilot program using electric heating and smart grid solutions aims to keep the wind power - and its associated benefits - within the city.
In 2003, the city's municipal government worked on a strategic plan to make its community greener, and the city ultimately decided to build and own its own wind power project. Aptly named the Summerside Wind Farm, the 12 MW project was commissioned in 2009 and comprises four Vestas 390 3 MW wind turbines.
Under the city's general fund, the taxpayers own the wind farm and sell the power to the municipal utility, Summerside Electric, which services about 7,000 customers and is contracted to buy all of the project's energy. In addition, Summerside Electric purchases another 9 MW of wind power from West Cape Energy, a company located on Prince Edward Island, for local use. Combined, both sources give the utility 50% wind integration.
But there is a problem: Summerside Electric has a peak load of 23 MW, a minimum load of 11 MW and an average load of 18 MW. With a wind capacity of 21 MW, the utility often has to sell surplus wind power to entities outside the city's borders.
So why build and purchase so much wind energy in Summerside? Greg Gaudet, director of municipal services for the City of Summerside, explains that it makes more sense for the utility and community to have a proactive, rather than reactive, approach to power needs.
"When we looked forward, we said we're not going to have this excess forever. Our load and community are going to grow," Gaudet tells Renew Grid. "We could've either built just enough for what we currently need - which, in my opinion, means we would have been starting out already behind - or we could build for the future and have a little excess now. That will lead to more opportunities."
Click headline to read more and access hot links--
Via
Chuck Sherwood, Senior Associate, TeleDimensions, Inc