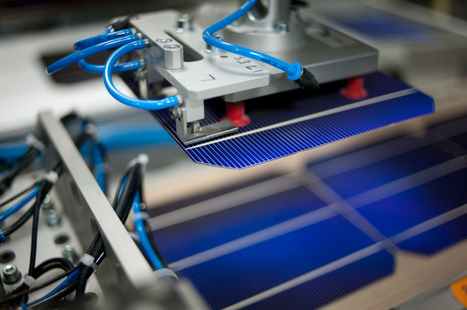 The trade complaint against Chinese solar cell makers drew to an end on Wednesday when the U.S. International Trade Commission (ITC) sided with U.S. solar manufacturers, agreeing that yes, U.S. solar makers have indeed been harmed by Chinese competitors. It's a decision that will keep in place tariffs on silicon solar cells coming out of China.
The ITC agreed in a 6-0 vote that Chinese solar producers have benefited from illegal subsidies from the Chinese government and sold products at below fair market value. The ITC's findings corroborate with the decision by the U.S. Commerce Department in October. The two agencies have to agree on the allegations before the tariffs set by the Commerce Department last month officially take effect.
Whether slapping tariffs on imported Chinese solar cells will achieve the ultimate goal of the trade dispute – to even the playing field and foster healthy competition – remains to be seen. So far, the dire predictions about the impact of tariffs from both sides of the disputes haven't taken hold even though the U.S. government began collecting tariffs –as a result of a preliminary decision by the Commerce Department – earlier this year. Major Chinese solar manufacturers include Suntech Power, Trina Solar, Yingli Green Energy and JA Solar.
Click headline to read more and access hot links--
Via
Chuck Sherwood, Senior Associate, TeleDimensions, Inc